Jill W. Englebretson:  Preschool Director
Hello.  I would like to take this opportunity to introduce myself to the KMCP family.  My name is Jill Welker Englebretson and I am a native of the Kernersville and Oak Ridge communities, but I went away for college and met my husband at the United States Air Force Academy.   He graduated and subsequently was commissioned in the Air Force and our family served some 22 ½ years as a military family around the world. We have four grown children and five grandchildren.  We came back  to NC in 2001.  I have a degree in Elementary Education (k – 6)  from Greensboro College and I have two Montessori Certifications.  I earned my Early Childhood (age 3 – 6) credential from the Florida Institute for Montessori Studies in 1997 and my Infant/Toddler Credential from the NC Center for Montessori Teacher Education in 2003.  I have been in and out of the Montessori classroom over the last twenty years.  I believe it is my God given gift and calling to teach young children.  I have been the Director of KMCP for 6 years.  I  am thrilled to have the opportunity to bring the Montessori method of Early Childhood Education to the Kernersville community.
Wanda Harris:  Office Administrator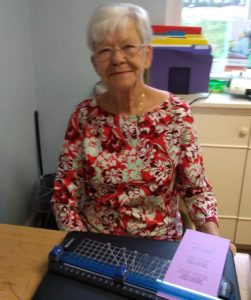 Hi, I'm Wanda Harris.  I moved to North Carolina in 1971, then to Kernersville in 1976.  I retired after 35 years from a Greensboro CPA firm.  My husband and I had one son and we became very active in the Kernersville Community Sports Scene, coaching Kernersville Little League and Raider's Football.   I have four grandchildren; Molly, Garrison, Elli, and Harper, with whom I love to spend time.  Garrison attended KMCP, then Elli and finally, Harper.  When Harper started, I volunteered for a year and in 2016, I was hired as the Office Administrator.  I do the banking and financial record keeping, maintain student records, help with fund raising, planning events, and anything else that comes up.   I truly enjoy being around the children and watching their growth.
Andrea Knipp:   Lead Teacher –  Children's House Montessori (age 3 – 6)
My name is Andrea Knipp and I have been working at KMCP for the past three years. I began as the 3-6 assistant and have been the lead teacher for 2 years. Previously, I was the Assistant Director of a preschool and taught 2nd and 3rd grade. I stopped teaching elementary so I could stay home with our two children for a couple of years and then my son began attending KMCP. He was a student for two years and I was very impressed with his independence and how much he excelled academically. When he graduated from preschool, I began teaching at KMCP and brought my daughter with me so she could have the same wonderful experience. I have always been passionate about Montessori as I was a Montessori kid myself and still have the fondest memories from my early school years. My wish is that children will enter my classroom and see a safe environment where they feel loved by their teachers and peers, can explore at their own level, have the freedom to make mistakes and learn from them, gain a sense of independence, and leave with a confidence that they can do anything if they set their mind to it.
Ginger Farrell:   Lead Teacher – Toddler Classroom
Ginger has been teaching at Kernersville Moravian Preschool for four years. She is the lead teacher in the 2-3 year old class. She has a BA from Moody Bible Institute in Chicago, IL and home-schooled her three children. Ginger was introduced to the Montessori Method in Texas when she started teaching at a large Montessori preschool. Since teaching at Kernersville Moravian Preschool she has received over 60 hours of Montessori instruction. She enjoys teaching and seeing children excel not only academically, but also socially and spiritually.
Katie Walker:  Classroom Assistant 
Katie joined the staff of KMCP in 2018 as a teacher's assistant after being a stay at home mom to her three daughters for nearly eight years. During her time as a stay at home mom she ran a successful in-home day care where she cared for children with ages ranging from infants to school aged.  While she holds a Bachelor's degree in communication studies, over the years she has realized her true calling is working with children and helping them learn and grow. She fell in love with the Montessori method of learning after her youngest daughter attended a Montessori PreK in Guilford county. Most of her training has come on the classroom at KMCP, she also attended the Montessori Educational Programs International conference in the spring of 2019.
Jessi Mock:  Classroom Assistant
Jessi joined KMCP in 2018 and is the assistant in the Toddler Classroom and in the "Afternoon Pre-K Program."  Her daughter attended KMCP for two years and graduated in 2019.  Jessi holds a Fine Arts Degree from East Carolina University and taught youth arts courses as an Internship when in school and also worked with the after school youth program at the Raleigh Arts Organization.  She has a love for art activities that are both fun and educational. She especially enjoys working with our young toddlers and watching them grow and become more independent and works diligently and in tandem with families  to help their youngster master "toileting." In the afternoons, she brings a wealth of creativity to our arts and crafts activities as well as our sewing and cooking lessons.